ICFO-NEST Postodctoral Positions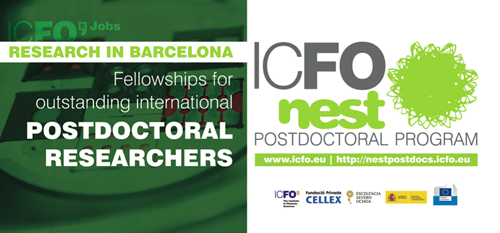 ICFO – The Institute of Photonic Sciences (http://www.icfo.eu) is a leading research center based in Barcelona, Spain, that conducts wide-scope research in the fields of optics and photonics and their applications encompassing all areas of science and technology.
The ICFOnest+ International Postdoctoral Program, offering up to 25 INCOMING postdoctoral fellowships of 24 month duration to competitive international postdoctoral researchers, with ambitious research projects at the forefront of science and technology. The program, partially supported by the European Commission's Marie Curie Actions COFUND Programmes and the Spanish Ministry of Economy and Competitiveness (MINECO), as well as by Fundació Privada Cellex, aims at providing high-level training and support for outstanding international researchers in the early stages of their careers.
Applications can be submitted on a rolling basis (until positions have been filled) via ICFOjobs, our Job Openings site and online application interface: http://jobs.icfo.eu. Applications will be collated and reviewed in batches every 3 months.
In case of any further questions, please don't hesitate to contact ICFO's Human Resources and Education department at icfojobs@icfo.eu, or see http://nestpostdocs.icfo.eu for further details.