The Art of System Biology and Nanoscience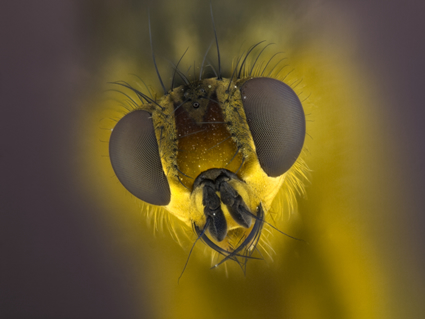 April 01 & 02, 2011
The Art of Systems Biology and Nanoscience
The Santa Fe Complex
Santa Fe, NM
From the first drawings of microorganisms to the x-ray images of DNA to Apollo's photograph of earth, scientific images are at once illuminating and beautiful. Whether scientists are delving into how an enzyme unzips a strand of DNA or studying the nanostructure of a gecko's feet, graphic visualizations convey a wealth of information, inspire new discoveries and delight our eyes and imagination.
You are invited to explore some of the newest and most fascinating images from two emergent branches of science during a two-day public celebration held at the Santa Fe Complex on April 1 and 2. The Art of Systems Biology and Nanoscience will feature public lectures on how scientists create art through advanced microscopy and computer simulations as well as on new techniques that promise to reveal even more. Throughout the event, digital and conventional art will be exhibited including the first showing of the winning pieces in the 2009 International Science & Engineering Visualization Challenge, sponsored by the National Science Foundation and Science magazine.
---
2011 Agenda
Friday, April 01, 2011
4:30-5:30: Reception for registered participants
5:30-7:00: Public Lecture 1
Dr. Scott Fraser
Introduction by Dr. Elaine Bearer
Title: "Imaging the origins of life in molecules, cells, embryos and patterns".
7:00-9:00: Viewing
Lumenscape dome projections and digital and hung art, especially the winning pieces from the 2010 International Science & Engineering Visualization Challenge.
Saturday, April 02, 2011
10:00-3:00: Kid-friendly nanotechnology exhibit
coordinated by Ms. Heather Armstrong
Interactive experiments for kids of all ages – a national NanoDays event
Exhibits are on display all afternoon
Teacher essays should be completed by 2:00 PM
Pizza and drinks will be served from 12-1:00 PM
2:45: Presentation of the glofish tank to the winning teacher
3:00-4:00: Public Lecture 2
Dr. Tom Picraux
Introduction by Dr. Abhaya Datye
Title: "Nanotechnology—Small things, Big promises: Exploring the World of the Teeny Tiny".
4:30-5:30: Reception for registered participants
Register here (registration is fast and free, but limited)
5:30-7:00: Public Lecture 3
Dr. Elaine Bearer
Introduction by Dr. Janet Oliver
Title: "Music and the Mind-Brain continuum: Mapping brains with functional imaging".
7:00-8:00: Viewing
2011 sponsors
The New Mexico Center for the Spatiotemporal Modeling of Cell Signaling (STMC), a NIH-funded National Center for Systems Biology (www.systemscenters.org)
The New Mexico Cancer Nanotechnology Training Center (CNTC), a member of the NCI Alliance for Nanotechnology in Cancer (http://nano.cancer.gov)
The UNM Nanoscience & Microsystems Degree Program
The LANL Center for Nonlinear Studies (CNLS)
The LANL Center for Integrated Nanotechnologies (CINT)
The National Science Foundation
2011 Credits
Keynote speakers
Scott Fraser, Beckman Imaging Institute, Caltech
Tom Picraux, Center for Integrated Nanotechnologies, LANL
Elaine Bearer, Pathology and STMC, UNM
Featured artists
John Carpenter and Adam Stieg - artists in residence
Jonathan Morse - local artist contributor
The winners of the 2010 International Science & Engineering Visualization Challenge sponsored by NSF and Science magazine, the American Society for Cell Biology (Cell Dance), Olympus (BioScapes 2010) and the UNM HSC Imaging Core (organizers Becky Lee and Genevieve Philips) for permission to display their wonderful images and movies.
The Collection and Curation Team
Elaine Bearer, Team Coordinator and Lead Collector
Stephen Todd, Guest Curator
Adam Shipman, co-curator, Center for Non-Linear Studies, LANL
Joe Dean, Light and Sound, Lumenscape
The Outreach and Communication Team
Tyler White - poster design
Bill Collins - web design
Elaine Bearer - media relations
Bridget Wilson - media relations
Students
The team of interns from Worcester Polytechnic whose efforts made out transitions seamless
The team of UNM Nanoscience and Microsystems graduate students who brought nanoscience to life for kids
Teachers
The teachers who competed in the Glo-Fish Tank Giveaway - with congratulation to the winner, Adam Brechtel from the Native American Community Academy in Albuquerque (http://nacaschool.org
)
The coordination and leadership team
Roy Wroth, Executive director, Santa Fe Complex
Ed Angel, Chairman of the Board, Santa Fe Complex
Susan Ashford, Operations Manager, Santa Fe Complex
Elaine Bearer, Professor and Vice-Chair of Pathology, Professor of Music, UNM
Janet Oliver, Regents' Professor and Harvey Chair of Pathology, UNM
Bridget Wilson, Professor of Pathology and Cancer Center Hematological Malignancies Program Leader, UNM
Ryan Tanner, Program Manager, STMC and CNTC, UNM
Heather Armstrong, Program Manager, NSMS and CNTC, UNM
Adam Shipman, Conference Coordinator, Center for Nonlinear Studies, LANL
The Beckman Institute Biological Imaging Center of the California Institute of Technology for providing one of the 3 slide shows of 130 individual images of developing embryos.
Funding
The National Institute for General Medical Sciences, the National Cancer Institute, the New Mexico Consortium, the City of Santa Fe and the Los Alamos Center for Non-Linear Studies.
2011 Videos
Music and Mind
Lecture by Elaine Bearer, MD-PhD