The Art of System Biology and Nanoscience
March 29 & 30, 2013
The Art of Systems Biology and Nanoscience
333 Montezuma Arts
333 Montezuma Avenue, Santa Fe, New Mexico
Image at left by Drew Berry
Advanced microscopy, nanoscale engineering and computer simulations are powerful tools for taking ideas about science that are impossible to observe directly and translating them into images and animations that advance scientific understanding and also make science more accessible to the public. Very often, research at the interface of the biological and physical sciences creates beautiful images as well as new knowledge. You are invited to explore some of the newest and most fascinating images during a two-day public celebration at 333 Montezuma Arts at 333 Montezuma Avenue in the rail yard area of Santa Fe on March 29 and 30.
The Art of Systems Biology and Nanoscience is an annual event in Santa Fe sponsored by: The New Mexico Spatiotemporal Modeling Center, a NIH-funded National Center for Systems Biology promoting applications of the physical sciences and mathematics to solve complex problems in human biology; the New Mexico Cancer Nanotechnology Training Center, a NCI-funded Center promoting applications of nanomaterials to prevent and treat cancer; and our host gallery, 333 Montezuma Arts, supporting initiatives in art that cross between categories and disciplines. Other important sponsors are the UNM Cancer Center; the interdisciplinary UNM Nanoscience and Microsystems Engineering Graduate program, The Center for Integrated Nanotechnologies, a DOE-funded Center dedicated to exploring the path from scientific discovery to the integration of nanostructures into the micro and macro worlds; and First Mile Institute.
The 2013 event will feature talks by two widely recognized biomedical scientists, the neurobiologist, Mark Ellisman from the University of California in San Diego and the cell biologist, Angela Wandinger-Ness from the University of New Mexico. Dr. Ellisman founded and directs the National Center for Microscopy and Imaging Research (NCMIR) at the University of California in San Diego. He is a world leader in the development of three-dimensional, light and electron microscopy and the application of advanced imaging technologies and computational resources to achieve greater understanding of cellular structure and function. Dr. Wandinger-Ness is a cell biologist who has made stunning use of advanced microscopy, in combination with biochemistry and flow cytometry, to understand how proteins traffic within cells. Her work has revealed abnormalities in intracellular trafficking that are associated with multiple human diseases including polycystic kidney disease (PKD), endometrial cancers, and Charcot-Marie-Tooth disease. These abnormalities provide new targets for drug discovery and therapies.
The hung and digital art will feature the spectacular scientific illustrations and animations of 2013 artist in residence, Drew Berry from the Walter and Eliza Hall Institute in Melbourne, Australia. Berry is renowned for his "Animations of Unseeable Biology", visually beautiful and scientifically accurate animations to illustrate how the molecules in our cells and tissues move and interact. His achievements include being the recipient of a 2010 MacArthur "genius" award as well as the artist and producer of a a wildly popular music video for the singer Björk. His animations have exhibited at venues such as the Guggenheim Museum, Museum of Modern Art (New York), the Royal Institute of Great Britain and the University of Geneva. His work will be complemented by other powerful images generated by noted photomicrographer (and Ellisman collaborator) Thomas Deerinck, also from UCSD. His award winning imagery has been featured on the cover of many top scientific journals as well as in popular periodicals such as The New York Times, National Geographic, Scientific American, Discover and Time magazine. As nature-inspired works of art, his images have been exhibited in galleries in New York, Paris, and London as well as in numerous museums throughout the world.
The event will additionally display several illustrations from the work of biomedical artist Joyce Hui (http://joycehuiart.com/index.php) as well as images generated by UNM and LANL scientists through the use of contemporary microscopes, nanoengineering technologies and computational data visualization methods.
A "National Nanodays" program for kids from 10:00 AM to 2:30 PM on Saturday will be led by graduate students from the UNM Nanoscience and Microsystems degree program and will feature hands-on nanotechnology activities along with interactive visualization tools to share developments and discoveries in the materials and biomedical sciences.
From 2:30 to 3:00, Mr. Stephen Todd, PhD candidate from the European Centre for Photographic Research (eCPR) and University of Wales, Newport, UK will speak about his research on transforming scientific images into the art space. His examples will be photographs taken from historic Geological Surveys in Wales and the US, especially the Southwestern surveys.
The art show will be open for viewing from 4:00 PM on Friday, March 29 to 8:00 PM on Saturday, March 30. Public talks will be held at 6 pm on Friday and 5:30 PM on Saturday. Kids and teachers are especially encouraged to visit and enter the world of the "teeny-tiny" through interactive experiments in nanotechnology on Saturday.
---
2013 Agenda
Friday, March 29, 2013
Art exhibits on display from 4:00 PM to 9:00 PM
4:30 - 5:30 PM: Private reception for registered participants
5:45 - 6:00 PM: Welcome and Introductions (Dr. Janet Oliver, UNM and Dr. David Morris, LANL)
6:00 - 7:00 PM: Public Lecture 1: Dr. Mark Ellisman (Intro Dr. Bridget Wilson)
Title: "Imaging the Dark Matter of the Brain"
7:00 - 9:00 PM: Viewing of the photomicrography, scientific illustrations and animations of 2013 artists in residence, Drew Berry and Thomas Deerinck.
Saturday, March 30, 2013
Art exhibits on display from 10:00 AM to 8:00 PM
10:00 AM - 2:30 PM: Kid-friendly nanotechnology exhibit – a national NanoDays event
Interactive experiments for kids of all ages presented by the UNM graduate students in Nanoscience and Microsystems Engineering
2:30 - 3:00 PM: Short presentation by Stephen Todd, PhD student at the University of Wales, UK, on the transformation of scientific images into the art space
Title: "Photography and Scientific Evidence: Beauty of the Every Day"
3:00 - 4:30 PM: Gallery walks with artists in residence, Drew Berry and Thomas Deerinck (small groups)
4:30 - 5:30 PM: Private reception for registered participants
5:30 - 7:00 PM: Public Lecture 2: Dr. Angela Wandinger-Ness (Intro Dr. Elaine Bearer)
Title: "Envisioning therapies by picturing disease"
7:00 - 8:00 PM: Continued viewing of the art exhibits and interaction with the artists
2013 sponsors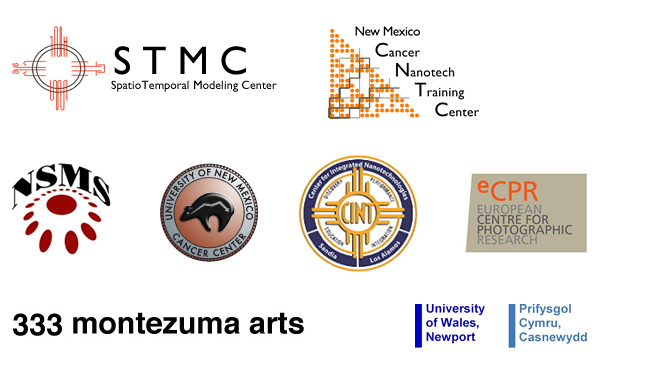 2013 Credits
Event Organizers
From UNM: Heather Armstrong, Elaine Bearer, Bill Collins, Janet Oliver and Ryan Tanner
From LANL: Bill Hlavacek, David Morris and Antonya Sanders
From First Mile Institute: Susan Ashford and Richard Lowenberg
From 333 Montezuma Arts: Tom Tavelli and Marty TwoBulls
Event Curators
Tom Tavelli and Marty Two Bulls (333 Montezuma Arts) were curators for the hung art.
Stephen Todd (University of Wales) and Joe Dean (Lumenscape) coordinated the digital art.
Special thanks to:
Kay Harvey, for her support of research in the UNM Department of Pathology and for generously opening 333 Montezuma Arts for this annual event bringing the art of systems biology and nanoscience to the public
Adam Shipman (LANL) for printing
Heather Armstrong (UNM), Ed Angel (UNM) and Irene Lee (SFI) for disseminating information about National Nanodays to the Albuquerque and Santa Fe schools.
Susan Ashford (1st-Mile), Michele Sequeira (UNM) and Marty Two Bulls (333 Montezuma Arts) for designing, creating and distributing announcements and invitations state wide via hard copy, E-mail, Facebook and Twitter
Michele Sequeira (UNM), Rae Ann Paden (UNM), Dorothy Hornbeck (JamesKorenchen.com) and Richard Lowenberg (1st-Mile) for organizing newspaper, radio and TV interviews
Art Tucker of Artotems.com for posting information about the event .
Susan Ashford and Ryan Tanner for attention to all the details